Joseph T. Barry, MD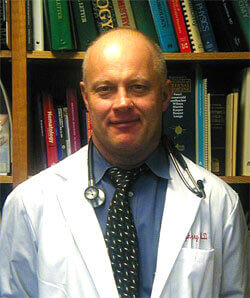 Dr. Barry grew up in Camillus and graduated from West Genesee High School in 1976. He then attended Cornell University and graduated in 1980. He then attended Downstate Medical Center and did a three year Internal Medicine Residency in Boston at St. Elizabeths Hospital. He returned to Central New York to join his father in private practice. Dr. Barry is board certified in both Internal Medicine and Geriatrics. He has relationships with Community General Hospital and has worked at Van Duyn Home and Hospital since 1989.
Dr. Barry lives in Lafayette with his wife Debbie and their two children Kyle and Shannon. His interests include chess, reading, old movies, hiking and gardening. Dr Barry believes you must treat the whole person not just the presenting problem. He believes there is a real and important connection between your brain, your body and your spiritual self.
---
Alexander B. Knudsen, MD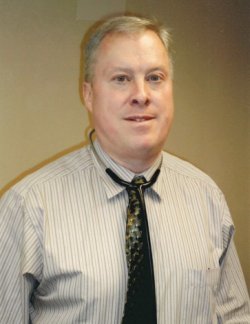 Dr. Knudsen was born in Brooklyn, NY and grew up in Staten Island. He moved to Syracuse to practice medicine with Drs J.T. and J.A. Barry in 1989. Dr. Knudsen is board certified in Internal Medicine. He attended medical school at Downstate Medical School in Brooklyn where he met Dr. J.T. Barry, and did his residency in St. Vincent Hospital in Worcester, MA. His wife, Suzanne is a respiratory therapist. They have a daughter, Kara Lynn.
---
David C. Manfredi, MD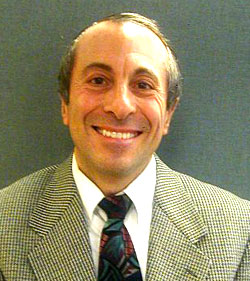 Dr. Manfredi was born and raised in NYC, where he attended and graduated from NYU. He continued his education at the University of Bologna, Italy, Medical School, graduating in 1975. He completed his residency in Family Practice at St. Joesph's Hospital of Yonkers, NY and received his board certification. Dr. Manfredi is fluent in French and Italian.
Dr. Manfredi and his wife, Martha Mulroy, moved to Syracuse and worked as an emergency medicine doctor at Community General Hospital for 23 years, receiving his board certification in this field. They have two sons, Mike and Brian, and a daughter Emily.
Dr. Manfredi is honored to be working with the staff of Preventive Medicine and keep his affiliation with Community General as an attending doctor in Family Practice.
---
Judith C. Garrett, FNP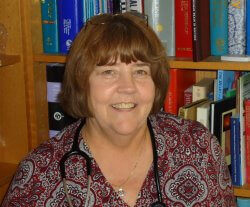 Judith graduated from Auburn Memorial Hospital and has practiced in acute care and long term care hospital nursing for 25 years. She received her Bachelor of Science degree in nursing from SUNY College of Technology and in 1996 received her Family Nurse Practitioner Certificate. She is currently certified by the American Nurses Association in Acute Care Nursing.
As a Nurse Practitioner, Judi sees her primary focus as patient education in health promotion, maintenance behaviors and in diagnosing and treating patients with non-critical acute and chronic illnesses.
---
Jennifer S. Castro FNP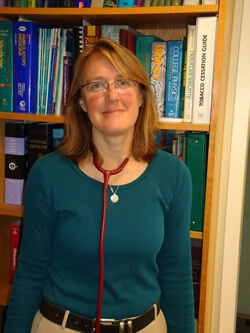 Jennifer Castro is a Nurse Practitioner in Family Health. She received her Bachelor of Nursing from Rutgers University. Her Family Nurse Practitioner Degree was awarded from SUNY Upstate. She started her nursing career at Memorial Sloan Kettering Cancer Center in the ICU before moving to Syracuse where she worked in the Emergency Department at St. Joseph's Hospital, and the Department of Family Medicine at Upstate as an FNP. She resides in Camillus with her husband Luis and three children Olivia, Manny, and Analise. She enjoys running, baking and reading with her kids.
---
Ellen Lynne Carey, FNP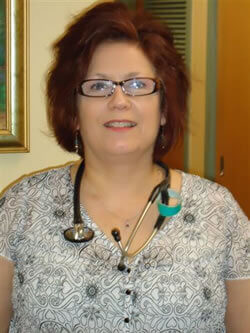 Lynne attended Wilkes University in Wilkes Barre, PA. and received her BSN in 1982. She served in the navy as a Nurse for 4 years, working with Adult General Surgical, Orthopedic and ENT patients. She worked in Neonatal Intensive Care at Oakland Childrens, then moved to North Carolina and worked at Duke University and began her masters at Duke. In 1996 she relocated back home to Syracuse, finished her Masters at SUNY and worked in the Pediatric Intensive Care Unit and recently as a Practitioner with Pediatric Surgery. Lynne received her Family Nurse Practitioner Certification recently. She has two boys, enjoys antiques, traveling and exploring the Adirondacks.
---
Zoryana R. Bosak, FNP
Zoryana is a Family Nurse Practitioner. She earned her BSN from SUNY Upstate Medical University. She started her nursing career in 2003 at University hospital, where she was employed for almost ten years. She worked in the Neuroscience Intermediate Care Unit as a Patient Service Leader (PSL). In 2012, Zoryana went back to college and earned her MSN from Upstate Medical University.
Zoryana lives in Lakeland with her husband Bogdan and their three children Benjamin, Jacob and Abigail. She enjoys spending time with family, cooking, reading, and traveling. She is fluent in Ukrainian and Russian.