Read the blog post written by the health care experts at Preventive Medicine Associates, PLLC in Camillus, NY to remain updated on medical news and events.
REMEMBRANCE 8K Run/ 3K Walk
June 12, 2016
Presenting Sponsor : FIRST NIAGARA BANK
Community Chair: DR. JOE BARRY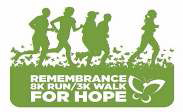 Form a team of co-workers, friends, relatives or classmates
Fun activities for kids
Lite snacks & lots of water
Sponsors/Runners/Walkers & Pledges needed
Award ceremony at conclusion of Run/Walk
Memorial Opportunity
Your loved one's name in memorial section of the tek shirt for $100
Marcellus High School
Registration: 7:30 AM
Race: 9:15 AM
Walk: 9:00 AM
$25 until 6/5, Participants registered by 6/5 receive a tek shirt.
$35 6/6-6/10
$40 day of event
children under 13 free
Runners & walkers who participate in memory will receive a pin to wear with their friend/loved one's picture. Bring a photo to post on the memory board.
Register online at runsignup.com or hopeforbereaved.com